Featured News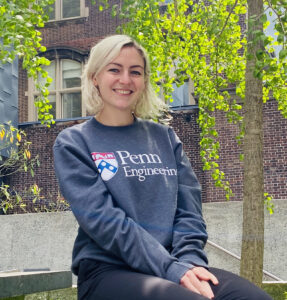 Announcing the Madison 'Maddie' Magee Award for Undergraduate Excellence
We are proud to announce that the Madison "Maddie" Magee Award for Undergraduate Excellence has been endowed in perpetuity to honor the memory of Madison "Maddie" Magee, a 2021 graduate who passed away while hiking the Pacific Crest Trail in 2022.
Maddie graduated with both a bachelor's degree in Mechanical Engineering and Applied Mechanics (MEAM) and a master's degree in Penn Bioengineering (BE) and went on to work in the Integrative Baseball Performance department of the Philadelphia Phillies. Maddie is remembered as a dedicated and passionate student who brought energy and spirit to everything she did.
The award, made possible by over $50,000 in donations from 130 contributors including the Philadelphia Phillies, will be given to Penn Engineering seniors who exemplify Maddie's energy, enthusiasm, and excellence.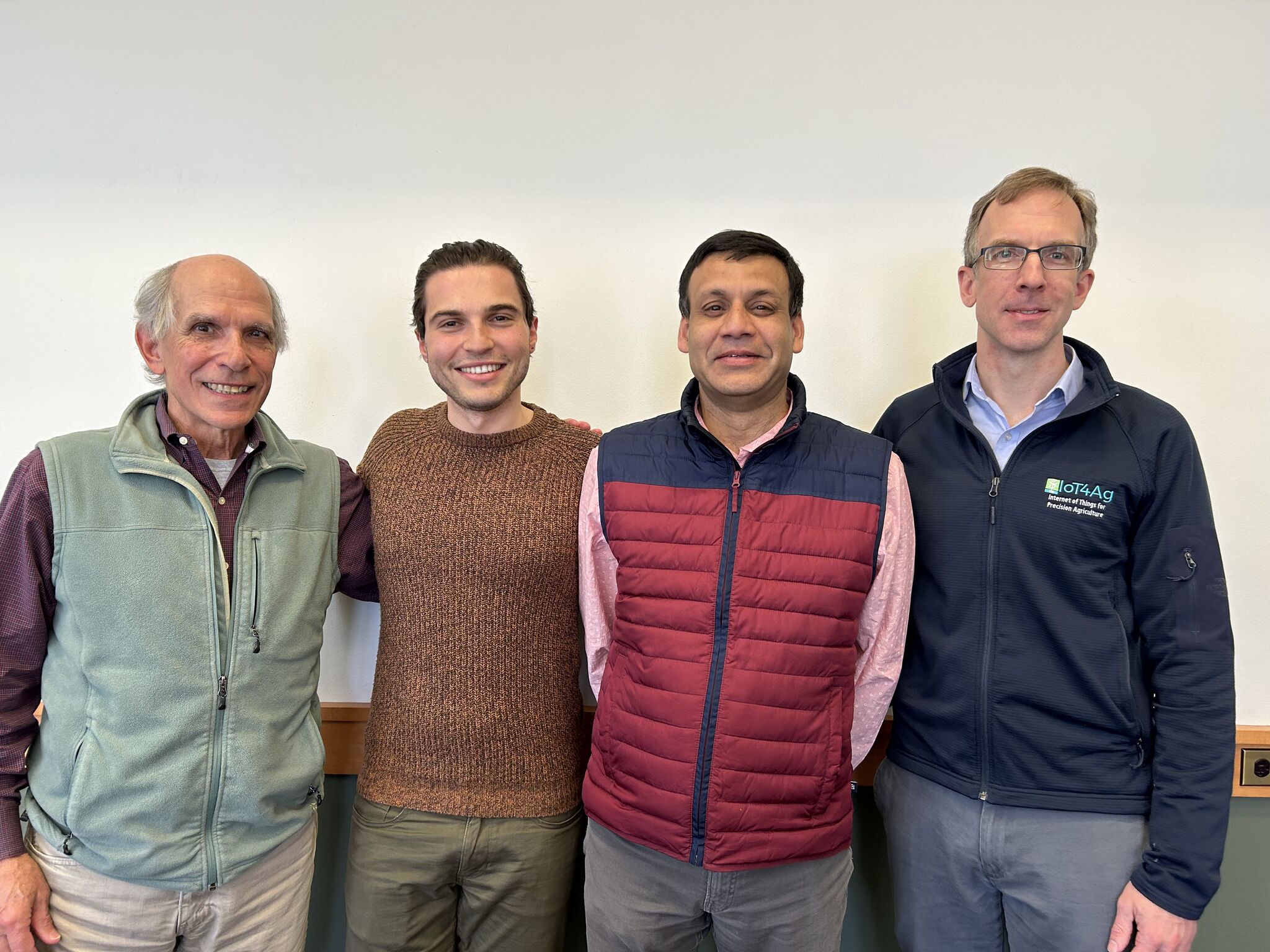 2023 John A. Goff Prize Awarded to Konstantinos Garyfallogiannis
Congratulations Konstantinos Garyfallogiannis, the 2023 recipient of the John A. Goff Prize.
Garyfallogiannis (second from the left) has been working on solid mechanics, particularly network materials including hydrogels and blood clots and is co-advised by John Bassani and Prashant Purohit.
"He's done a great job of looking into the analysis of [hydrogel] problems with cracks, and doing finite analyses and large deprivation analyses. It's a terrific thesis that is under way and it's been great to work with [him]," said Bassani.
This prize is awarded annually to a graduate student in the Department of Mechanical Engineering and Applied Mechanics who has been selected by the faculty on the basis of criteria of scholarship, resourcefulness, and leadership.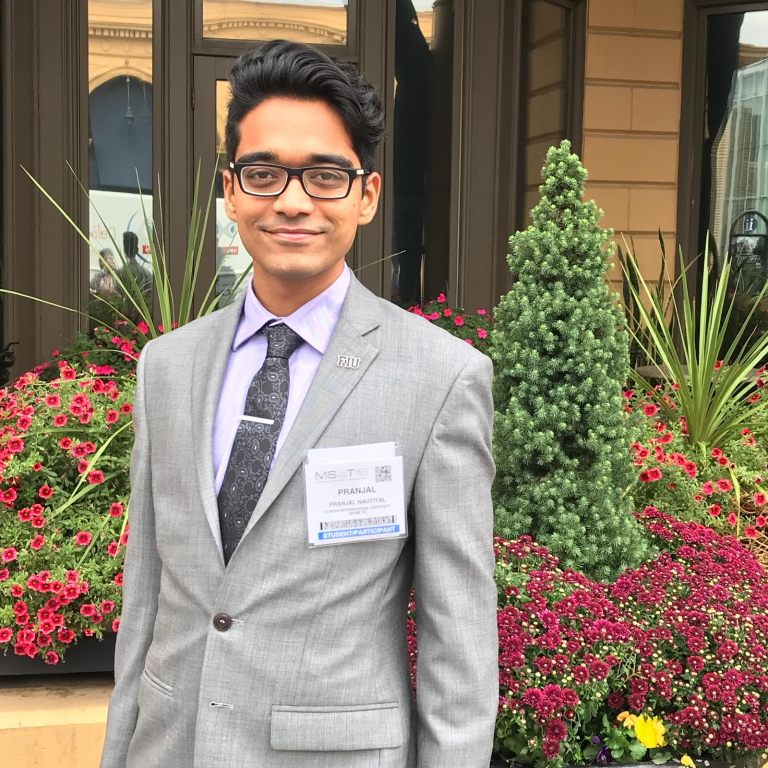 Pranjal Nautiyal Receives Pair of Scholarly Honors
Pranjal Nautiyal, postdoctoral associate in the Carpick Research Group with Principal Investigator Robert Carpick, has received an Early Career Award from the STLE – Society of Tribologists and Lubrication Engineers and has been named to the 2023 class of Senior Members of the National Academy of Inventors (NAI). These accolades recognize Nautiyal's technical achievements and their impact on society at large.
As an STLE member, Nautiyal is one of many experts who research, develop and market the methods and products that make industry more successful and that enhance the well-being of people worldwide. As an NAI Senior Member, Nautiyal has demonstrated success in patents, licensing and commercialization and has produced technologies that have brought, or aspire to bring, real impact on the welfare of society. READ MORE
Soft Robots Gain New Strength and Make Virtual Reality Gloves Feel More Real
With the relationship between strength and softness in mind, a team of Penn Engineers, including James Pikul, Assistant Professor in MEAM, and Kevin Turner, Professor and Chair of MEAM, and their Ph.D. students, published a study in Science Robotics describing a new, fracture-mechanics-based model of electroadhesive clutches, a mechanical structure that can control the stiffness of soft robotic materials. Soft robots, usually made with materials like rubber, gels, and cloth, have advantages when it comes to tasks that require direct human interaction. Currently, soft robots lack the strength to perform these tasks while using high amounts of electricity. Penn engineers devised a new electrostatically controlled clutch which enables a soft robotic hand to hold 4 pounds. READ MORE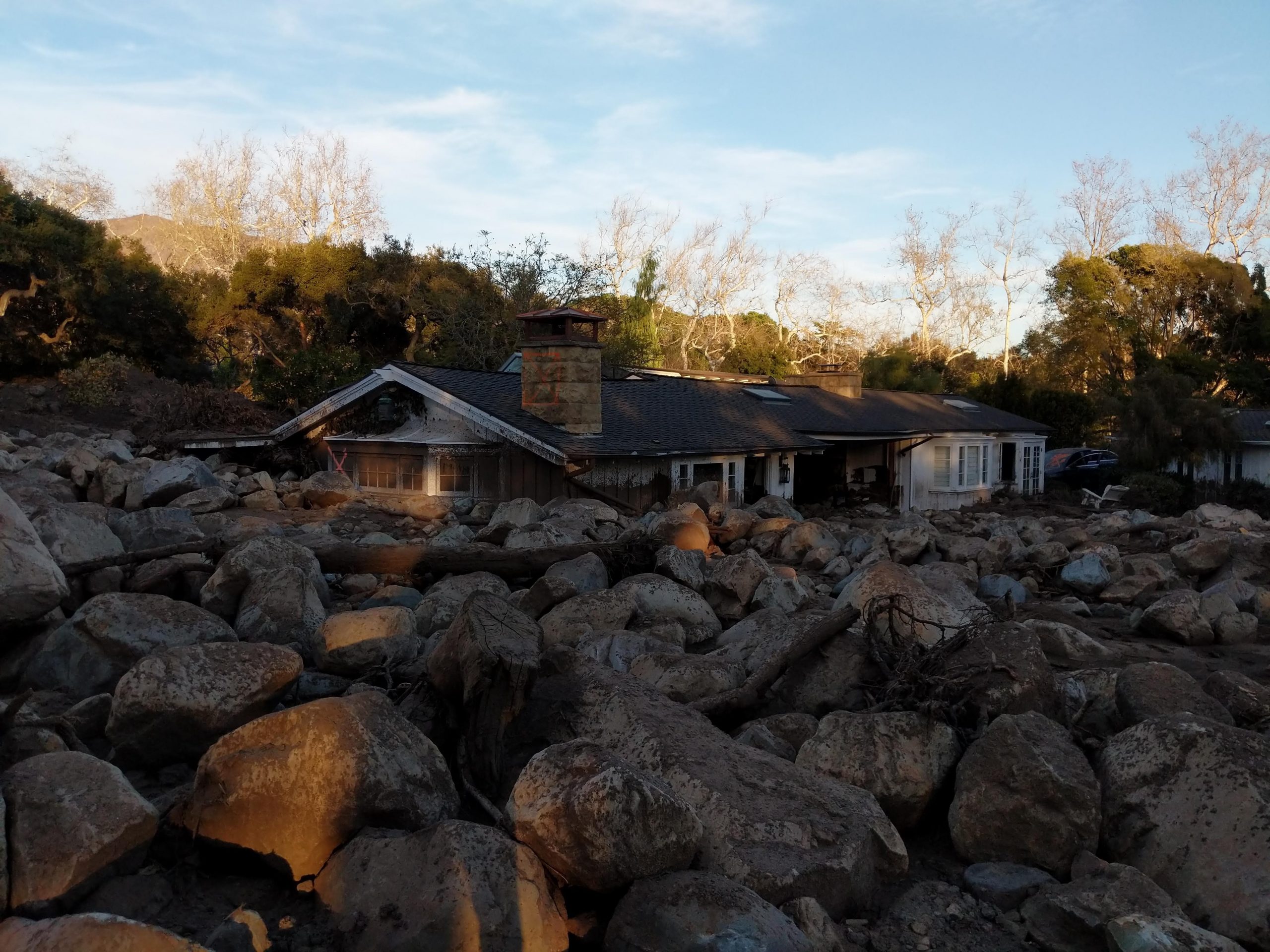 Physics of Disaster: How Mudslides Move
New findings from a team led by Douglas Jerolmack of Penn's School of Arts & Sciences and School of Engineering and Applied Science in collaboration with Paulo Arratia of Mechanical Engineering and Applied Mechanics, and researchers from the University of California, Santa Barbara (UCSB), performed laboratory experiments with cutting-edge physics that determined how the failure and flow behavior of samples from the Montecito mudslides was related to material properties of the soil.
The new findings to predict yield stress and the jammed state can help inform modeling that federal and local governments do to simulate debris flows, the researchers say. "Say, if it rains this hard and I have this kind of material, how fast is it going to flow and how far," Jerolmack says. READ MORE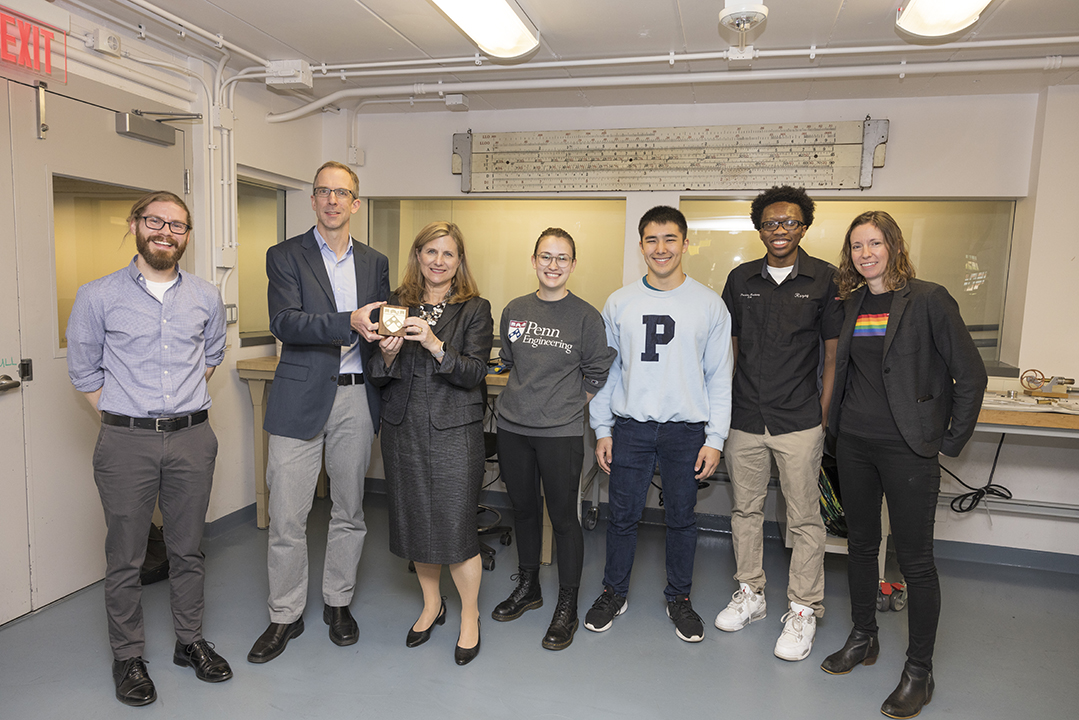 Penn President Liz Magill Visits the GM Motors Laboratory
On November 10, 2022, University of Pennsylvania President Elizabeth Magill visited the School of Engineering and Applied Science with Professor and Dean of Penn Engineering Vijay Kumar.
It was a distinct honor to welcome President Magill to the Mechanical Engineering and Applied Mechanics (MEAM) teaching laboratories. Students, Razaq Aribidesi, Sophia Bowe, and David Candia, demonstrated the Stirling Engine project that students in MEAM 2010 are currently working on.
Technical staff manufactured an engraved Penn Shield as a gift for President Magill, which was presented during her visit. In the second photo, see MEAM students with Professor and Department Chair Kevin Turner, Practice Associate Professor Dustyn Roberts, and Senior Lecturer Graham Wabiszewski.
📸 : Lisa Godfrey
Announcement
Highlights from 2022 | MEAM
We are excited to share with you a "Year in Review" highlighting of some of the amazing research and achievements accomplished in MEAM in 2022. The MEAM community is remarkable and pushed the boundaries of what was thought possible in 2022. To those faculty, students and professionals who contributed to these advances, we would like to extend a heartfelt thank you.
We are grateful to all of the organizations and institutions that supported this research and provided the resources and opportunities for these achievements and discoveries to be realized. Your support is crucial.
Thank you for all that you do to support MEAM @ Penn. We look forward to sharing more exciting developments with you in the year ahead.
Penn Engineering COVID-19 Information
Visit this page to get information for visitors, students, faculty and staff related to Penn Engineering's response to the coronavirus pandemic.
Welcome!
Welcome to Mechanical Engineering and Applied Mechanics (MEAM) at Penn! We are a vibrant, dynamic, diverse, and interactive community. We focus on our high-caliber undergraduate and graduate programs, which combine rigorous education in the fundamentals with hands-on projects and research into novel problems and advanced applications.
Learn More