Senior Design (MEAM 4450 & 4460 / MEAM 445 & 446) - Required for MEAM majors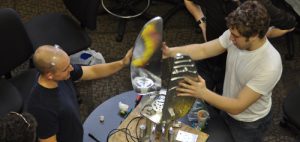 Instructor:  Graham Wabiszewski
Senior Design is a two-semester "capstone" design project sequence required of all mechanical engineering students.  During the fall semester, students form teams, choose a project and begin researching the topic.  Typically, a prototype is created by the end of the semester.  In the spring, teams iterate on their design and fabricate the final product, as well as produce a detailed, technical paper.  In some cases, teams will pursue a research-oriented project that supplements the work of a Penn faculty member.
Student Comments:
"The MEAM senior design project is a fundamental part of the MEAM curriculum, and overall a valuable and enjoyable experience."
Please note: Due to NGSS changes to course numbering in March 2022, this page has been updated to reflect the new 4-digit course numbers. 
Undergraduate Program:
---
Staff Contact:
Katie Knorr
Academic Coordinator for Undergraduate Programs
229 Towne Building
Phone: 215-898-4825
Email: kknorr@seas.upenn.edu